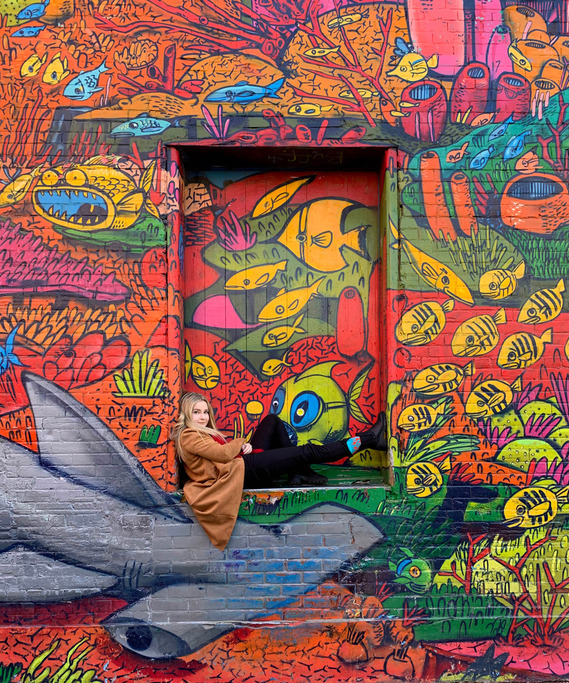 Hello
My name is Jaclyn McConnell and I'm a Toronto based Art Director and Artist.
I care about the details. So much so I've have hidden three smiley faces throughout my book. If you're up for the challenge, comb away. Shoot me an email upon your success or if you need a tip.

The second thing about me is that I'm a chameleon. I love to constantly evolve and try new tactics as well as visual tools. I'm always up for a challenge.
The Cliff Notes:
Work:
2022 - Present, Rethink, Art Director, Toronto, ON
2021 lg2, Agency Lab, Interning Art Director, Toronto, ON
2021 No Fixed Address, Agency Lab, Interning Art Director, Toronto, ON
2021 FCB/SIX, Agency Lab, Interning Art Director, Toronto, ON
2020 Rethink, Agency Lab, Interning Art Director, Toronto, ON
2016-18 Graphic Designer, Studio Q, Kingston, ON
2015-16 Assistant Photographer, South March Studios, Ottawa, ON
Education:
2021 BULLETPROOF, The One Club Mentorship Program, Design, NYC, NY
2019 – 2021 Miami Ad School Toronto, Art Direction, Diploma Program, Toronto ON
2014 – 2018 Queen's University, Major Honours, Bachelor of Fine Art, Minor Film & Media, Kingston ON
Awards:
2023 Young Lions | Globe and Mail - Gold Print Winner
2023 One Show | GOLD - Print & Promotional, Newspaper - Single (Heinz Draw Ketchup)
2023 ADC | BRONZE - Press, Newspaper, Series (Heinz Draw Ketchup)
2023 Clios | SILVER - Print, Product/Service (Heinz Draw Ketchup)
2023 D&AD | WOOD PENCIL - Press & Outdoor, Press Campaigns (Heinz Draw Ketchup)
2022 Cannes | GOLD - Print & Publishing, Social Behaviour (Heinz Draw Ketchup)
2022 Cannes | GOLD - Creative Strategy, Food & Drink (Heinz Draw Ketchup)
2022 Cannes | BRONZE - Media, Food & Drink (Heinz Draw Ketchup)
2022 Cannes | BRONZE - Film, Food & Drink (Heinz Draw Ketchup)
2022 Cannes | SHORTLIST - Titanium (Heinz Draw Ketchup)
2022 Cannes | SHORTLIST - Print & Publishing, Market Disruption (Heinz Draw Ketchup)
2022 Andy Awards | GRAND PRIX - Best of Show (Heinz Draw Ketchup)
2022 Andy Awards | GOLD - Idea (Heinz Draw Ketchup)
2022 Clios | SILVER - Experience/Activation, Guerilla (Heinz Draw Ketchup)
2022 Clios | SILVER - Film, Long-form Video (Heinz Draw Ketchup)
2022 Clios | BRONZE - Integrated Campaign, Product/Service (Heinz Draw Ketchup)
2022 Clios | SHORTLIST - Billboard, Product/Service (Heinz Draw Ketchup)
2022 LIA Awards | SILVER - Integration, Foods (Heinz Draw Ketchup)
2022 LIA Awards | SILVER - Ambient & Activation, Foods (Heinz Draw Ketchup)
2022 LIA Awards | SILVER - Print, Use of Illustration Campaign (Heinz Draw Ketchup)
2022 LIA Awards | BRONZE - Print, Consumer Campaign (Heinz Draw Ketchup)
2022 LIA Awards | BRONZE - Billboard, Use of Illustration (Heinz Draw Ketchup)
2022 LIA Awards | FINALIST - Creativity In PR, Food and Beverages (Heinz Draw Ketchup)
2022 LIA Awards | FINALIST - Evolution, Brand Action (Heinz Draw Ketchup)
2022 Epica | SILVER - Food (Heinz Draw Ketchup)
2022 ADCC | GOLD - Advertising, Direct (Heinz Draw Ketchup)
2022 ADCC | GOLD - Advertising, Integrated Campaign (Heinz Draw Ketchup)
2022 ADCC | GOLD - Advertising, Creative Effectiveness (Heinz Draw Ketchup)
2022 ADCC | GOLD - Advertising, Film TV Over 30 (Heinz Draw Ketchup)
2022 ADCC | SILVER - Advertising, Posters - Campaign (Heinz Draw Ketchup)
2022 ADCC | SILVER - Advertising, Posters - Best Art Direction (Heinz Draw Ketchup)
2022 ADCC | SILVER - Design, Photography & Illustration (Heinz Draw Ketchup)
2022 ADCC | BRONZE - Design, Package Design Single (Heinz Draw Ketchup)
2022 Communication Arts | Advertising - Consumer Newspaper Ads, Series (Heinz Draw Ketchup)
2022 Featured in Hey Whipple, Squeeze This - 6th Edition By Luke Sullivan (Heinz Ketchup)
2021 One Show | GOLD PENCIL - Social Media, User-Generated Content (Heinz Draw Ketchup)
2021 One Show | SILVER PENCIL - Design, Promotional – Collateral Items (Heinz Draw Ketchup)
2021 One Show | SILVER PENCIL - Branded Entertainment, User-Generated Content (Heinz Draw Ketchup)
2021 One Show | BRONZE PENCIL - OOH, Billboards & Transit – Series (Heinz Draw Ketchup)
2021 One Show | MERIT - OOH, Billboards & Transit – Single (Heinz Draw Ketchup)
2021 One Show | MERIT - Direct Marketing, Craft – Data-Driven Personalization (Heinz Draw Ketchup)
2021 One Show | MERIT - Direct Marketing, Physical Items (Heinz Draw Ketchup)
2021 Cannes | SHORTLIST - Brand Experience & Activation, 360 Integrated Brand Experience (Draw Ketchup)
2021 Cannes | SHORTLIST - Social & Influencer, Co-creation & User Generated Content (Draw Ketchup)
2021 D&AD | WOOD PENCIL - Packaging Design, Promotional (Heinz Draw Ketchup)
2021 Epica | SILVER - Food (Heinz Draw Ketchup)
2021 Epica | SILVER - Integrated Campaigns (Heinz Draw Ketchup)
2021 Marketing Awards | GOLD - Advertising, Integrated Campaign (Draw Ketchup)
2021 Marketing Awards | GOLD - Advertising, PR Campaign (Draw Ketchup)
2021 Marketing Awards | SILVER - Advertising, Best in Collateral (Draw Ketchup)
2021 Marketing Awards | SILVER - Advertising, Billboard Campaign (Draw Ketchup)
2021 Marketing Awards | SILVER - Advertising, Integrated Campaign (Draw Ketchup)
2021 Marketing Awards | BRONZE - Advertising, Billboard Single (Draw Ketchup)
2021 Marketing Awards | MERIT - Advertising, Billboard Single (Draw Ketchup)
2021 Marketing Awards | MERIT - Advertising, Community Building (Draw Ketchup)
2021 Communication Arts | Advertising - Digital Online Video, Single (Heinz Draw Ketchup)
2021 Applied Arts | Film Over 30 Seconds, Single (Heinz Draw Ketchup)
2021 Applied Arts | Entire Advertising, Campaign (Heinz Draw Ketchup)
2021 Applied Arts | Brand Activation, Campaign (Heinz Draw Ketchup)
2021 Applied Arts | Out-of-Home, Series (Heinz Draw Ketchup)
2021 Applied Arts | Experiential/Event, Single (Heinz Draw Ketchup)
2021 Applied Arts | Ideation, Campaign (Heinz Draw Ketchup)
2021 Applied Arts | Art Direction, Series (Heinz Draw Ketchup)
2021 CMA | GOLD - Food & Beverage, Brand Building (Heinz Draw Ketchup)
2021 CMA | GOLD - Food & Beverage, Engagement (Heinz Draw Ketchup)
2021 SIA | SILVER - Original Idea (Heinz Draw Ketchup)
2021 SIA | SILVER - Acting on Insights (Heinz Draw Ketchup)
2021 The Drum Chip Shop Awards | CHIP - Best Food & Drink (Heinz Draw Ketchup)
2021 Contagious | Best Campaigns of 2021 (Heinz Draw Ketchup)
2021 AdAge | #1 Best Ads of 2021 (Heinz Draw Ketchup)
2021 AdWeek | #10 Best Ads of 2021 (Heinz Draw Ketchup)
2021 Fast Company | Top 5 Best Ads of 2021 (Heinz Draw Ketchup)
2021 LLB Immortal Awards | COMMENDATION - Outdoor & Experiential (Heinz Draw Ketchup)
2021 SIA Summit International Awards | Bronze - Student Campaign Entry (Melanoma Manicure)
2021 Miami Ad School Toronto | Live Client Winner - Flight Paths (The Greater/Hope Air)
2021 Miami Ad School Toronto | Top Dog - Spring Quarter
2021 Communication Arts | Winner - Digital Advertising (Wait for Heinz)
2021 Communication Arts | Winner - Annual 62 (Melanoma Manicure)
2021 Communication Arts | Shortlisted (Drive from Home)
2021 Young One's | Silver Pencil Winner (Drive from Home)
2021 ADCC | Student Competition Gold Winner (Melanoma Manicure)
2021 ADCC | Student Competition Bronze Winner (Drive from Home)
2021 One Show | Billboard/Transit Single - Shortlist (Wait For Heinz)
2021 BK Clio Student Innovation - Shortlisted (Gril Power)
2020 Young One's Silver Pencil Winner (Skatefulness)
2020 Young Glory Student Finalist Round 6 (Space Jam Invasion)
2019 Miami Ad School Toronto - Live Client Winner - Molson (Untapped)
2019 Miami Ad School Toronto Entrance Scholarship
Press:
2023 Strategy Magazine - Winners announced for 2023 Canadian Young Lions
2023 The Globe and Mail - Top 5 Finalists for the 2023 Young Lions
2023 Strategy Magazine - Creative Report Card - #7 Designer
2022 Strategy Magazine - Creative Report Card - #6 Designer
2022 Strategy Magazine - Rethink Opens 2022 with Creative Growth
2021 Strategy Magazine - ADCC Winners Coverage
2021 The Message - ADCC Winners Coverage
2021 Just Getting Started - Podcast Guest
2021 Narcity - Wait for Heinz - Copywriting
2021 AdAge - Wait for Heinz - Copywriting
2021 Ads of Brands - One Show Global Creative Rankings - Designer
2021 Shoot Online - One Show Global Creative Rankings - Designer
2021 AdAge - Heinz Draw Ketchup - Designer
2021 Muse by Clio – Heinz Draw Ketchup – Designer
2020 Strategy Magazine – Young Ones Winners Coverage
2020 The Message – Young Ones Winners Coverage
2020 CTV News Ottawa – Photo of the Day – November